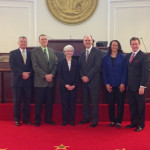 On Wednesday, March 11, the NCPN leadership team had the privilege of spending the day at the North Carolina General Assembly.  Our day began with a tour of part of the facility, including a lengthy visit in the actual Senate chamber.  Our gracious host was Senator Warren Daniel and his legislative assistant Andy Perrigo.
Following our time in the actual Senate chamber, we made our way to the chapel for a 30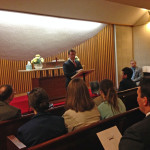 minute service.  It was stirring to hear "Come Thou Fount" and "I'll Fly Away" waft out of the chapel and into the corridors of the Assembly building.  Following an introduction by Senator Daniel, and a special music rendition of "How Great Thou Art" by my son Nathan, it was my honor to speak on the topic of "God's Change Agents" from the book of Nehemiah.  What a thrilling thing to see eager eyes, minds and hearts soaking up the Word of God!  The room was electric with God's presence throughout the entire chapel time!
Following the chapel, we were able to interact with those who attended, as well as meet with the Senate Chaplain Peter Milner, a 6'8″ former Wake Forest University basketball player.  Without doubt, our leadership team was overwhelmingly well received, to the point of discussions occurring relative to an annual "Pastors Day" at the NC General Assembly.  That day would afford NCPN the opportunity to take several hundred pastors to Raleigh for a day of mutual challenge and engagement.
I want to specifically thank our NCPN leadership (Dr. Ken Carrico, David Doster, Bake Garman, and Betty Cotton) for being in attendance and interacting with the senators, congressmen, interns and lobbyists who attended.  As well, Dr. Kathy Johnson was an outstanding addition to our group. Her more than gracious spirit did much to endear us to those in the General Assembly with whom we interacted.
I ask for your diligent prayer for future ministry in Raleigh. There are major pieces of legislation that will come before this session of the Assembly.  It is our sincerest desire to see North Carolina's pastors actively involved in being salt and light themselves, as well as bringing God's truth directly to bear on the decisions that come out of the NC Legislature!  I especially ask for your petitions on behalf of those incredibly dedicated senators and congressmen/women in Raleigh, who stand unequivocally for righteousness every day.  They desperately need to hear from, and be encouraged by, God's preachers!
Stay tuned for updates on upcoming ministry in Raleigh!
Dave Kistler
President, HOPE Ministries International
President, North Carolina Pastors Network (NCPN)