That which we have feared occurring has now happened.  Yesterday, the 4th Circuit Court of Appeals in Richmond, VA stood by a lower court ruling declaring Virginia's Marriage Amendment unconstitutional!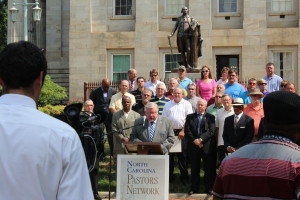 Almost two weeks ago, a group of NCPN pastors stood on the steps of the capital in Raleigh to demand that our governor, Pat McCrory, appeal this decision should it become a reality.  Well, it's now happened!  What our Attorney General and Governor will do remains unclear. What is clear is that the next attempted domino to be pushed over will North Carolina's hard fought victory in 2012 defining marriage as God does.
While I have absolutely NO DOUBT that the courts will now aggressively go after our Amendment, I am completely unsure what course, if any, our NC state leadership will take.  Because we've expected this 4th Circuit outcome, we at NCPN have discussed a road map to follow from here!  At this point, I do not want to unveil that road map.  I will say that the battle is NOT, by any means, over!
The 10th Amendment of the United States Constitution makes it unequivocally clear that defining marriage is the domain of states, NOT THE FEDERAL GOVERNMENT or it's courts!!!  Immediately after the ruling came down, my phone and email began to light up with radio and newspaper interview requests–asking for an NCPN response. Thankfully, I was able to speak God's truth (as well as Constitutional truth) in each interview.
I ask for your continued prayers for God's intervention in this critical situation!  I ask for you to hold us (the NCPN leadership) up in your prayers, that we will represent our Lord and His truth well as we are now in demand for comments regarding this issue!  I ask that you pray for God to turn the heart of our Governor toward an unwavering commitment to defending the law of NC by doing all in his power to protect our state's Marriage Amendment via instant appeal of this tragic 4th Circuit decision!
In the days ahead, I will keep you abreast of our course of action. To do nothing is NOT AN OPTION!  We absolutely MUST state and stand for God's truth–especially His truth regarding His institution of marriage!  "Well, Dave, the nation seems to be going this direction–accepting same-sex marriage!"  What is the trend is NOT our standard, and should NEVER become an excuse for refusing to stand unequivocally for God's definition of marriage!  So, we gird up our minds and hearts for Holy Spirit directed battle against Lucifer's errant philosophy–a philosophy that is becoming pervasive, and apart from God's intervention via His preachers, will become the norm!
That said, all that is needed is one state Attorney General, or Governor, who has the guts to stand up, straighten his spine, and appeal this decision!  May our beloved state of North Carolina become the first state with leaders who lead with courage and conviction, standing up against judicial tyranny and for what is right, both Constitutionally and Biblically!!!
Dave Kistler
President, HOPE Ministries International
President, North Carolina Pastors Network (NCPN)